Non-human Type Glyco-epitopes Related Reagents
Published on 23/07/2021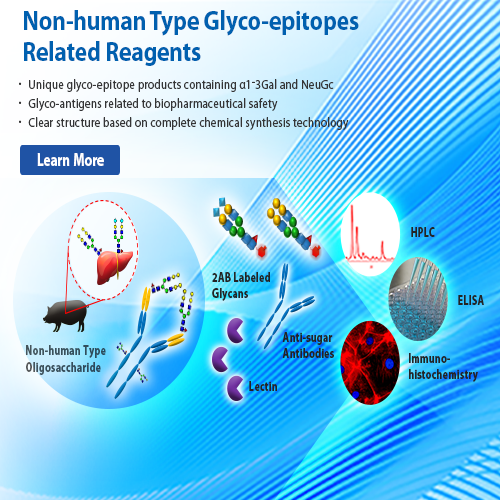 TCI offers non-human type Glyco-epitopes related reagents for research and analysis. Our glyco-epitope products are unique containing α1-3Gal and NeuGc. We offer glyco-antigens related to biopharmaceutical safety.
Since its foundation in 1946, TCI's philosophy has been to contribute to society through the manufacturing and supply of organic laboratory chemicals. We are proud, that today our company offers more than 30,000 quality reagents on a global basis. In recent years, our business has also expanded to the manufacturing of fine chemicals such as pharmaceutical and cosmetic raw materials, electroluminescent compounds, and building blocks for liquid crystals.
Structure-defined high grade 2-AB labeled N-glycans produced by our chemical synthesis of oligosaccharide using various sugar building blocks. Please take advantage of our fluorescent-labeled products as a standard glycan for MS, CE and HPLC analyses.
For more information: Non-human Type Glyco-epitopes Related Reagents | Tokyo Chemical Industry UK Ltd. (tcichemicals.com)
Contact:
Tokyo Chemical Industry UK Ltd.
The Magdalen Centre
Robert Robinson Avenue
The Oxford Science Park,
Oxford OX4 4GA
Tel: 01865 784560
E-mail: Sales-UK@TCIchemicals.com
You can also contact our local sales representative Mr. Robbie Benning: Robbie.Benning@TCIchemicals.com