MMPathIC's flexible pipeline model for working – an integrated pathway to diagnostic innovation
Published on 11/10/2018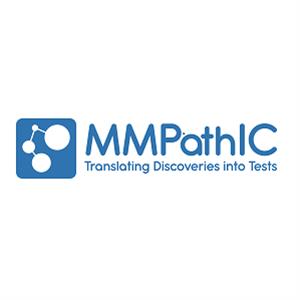 The Manchester Molecular Pathology Innovation Centre (MMPathIC) launched in October 2015 after The University of Manchester received £2.9 million from the Medical Research Council (with co-funding from the Engineering and Physical Sciences Council) to develop new diagnostic tests based on molecular pathology techniques.
Delivering novel diagnostics and molecular pathology tests to the clinic or market involves a series of steps, forming the development pathway, to establish the analytical accuracy, clinical and cost effectiveness, and clinical utility of a novel marker.
MMPathIC offers a clear line of sight from discovery and evaluation through to implementation; and works with researchers and companies who are at different steps of this pathway to deploy new products into the population.
Discovery
We are well-equipped to identify novel biomarkers with the Stoller Biomarker Discovery Centre (SBDC) - our discovery arm for innovation, co-located alongside MMPathIC. Our researchers help to industrialise the process of identifying biomarkers, aiding in the translation of biomarkers into the clinical lab.
MMPathIC is also part of a national consortium which has been awarded a £1.7 million grant to create the world's largest Immune-Mediated Inflammatory Disease (IMID) Biobank, in excess of 40,000 patients.
Assay Development
We have the capability to develop your assay to your unique needs. With 15 high-end mass spectrometers, SBDC is one of the biggest clinical proteomics facilities in the world focussing on biomarker development and the largest in Europe. We have the capacity to process up to 15,000 plasma samples per annum.
MMPathIC has substantial experience of molecular diagnostic test development in research or clinical settings and we can work with companies at any stage of the development process.
Validation
Successful biomarker validation, leading to translation into clinical use, requires significant technical and academic integration at many levels.
We have expertise in clinical study design and can assist companies with this. By working with MMPathIC you can be confident that the design and implementation of your validation study will meet the highest standards. Using advanced mass spectrometry technologies, we carry out the clinical and pre-clinical confirmation of biomarker assays.
Clinical Evaluation
MMPathIC offers companies the opportunity to collaborate with Manchester University NHS Foundation Trust (MFT) and collect clinical data to evaluate product outcomes and pathway changes.
To ensure the greatest likelihood of delivering new tests to the clinic, all potential projects are evaluated for their likelihood of meeting a value proposition (a key assessment criterion for a new technology).
The value proposition asks whether the new technology does the same thing at a lower cost, or if it is better for the same price, or both.
At MMPathIC we are able to apply the value proposition question early on in the pipeline thanks to input from local clinicians and our team of highly skilled health economists and bioinformaticians. The National Institute for Health and Care Excellence (NICE) also applies this value proposition but only to products that have been CE marked.
Our team provides crucial analysis to assist organisations in defining precise product niches to determine whether development is likely to yield a saleable product and inform a decision around whether MMPathIC will support a project.
Translation into Clinical Use
With a devolved £6 billion healthcare budget and a stable, engaged and diverse population of 3 million people, Greater Manchester offers an unparalleled opportunity for industry partners to participate in precision medicine, with our Health Innovation Manchester partners.
Routine Implementation
MMPathIC works in cooperation with the five other molecular pathology nodes across the UK, funded by MRC and EPSRC. This ongoing dialogue subsequently allows for the evaluation and rollout of new tests and related technologies across a number of potential test beds in the UK.
MMPathIC is happy to act as a link to the wider node network for industry partners.
MMPathIC is open to approaches from potential industry partners with whom we may be able to develop new collaborations. If you have an idea for a project that you would like to develop further, please contact the team at mmpathic@manchester.ac.uk.
Website:
www.manchester.ac.uk/mmpathic
Twitter: @mmpathic