The YSDS Partnership
Published on 14/06/2021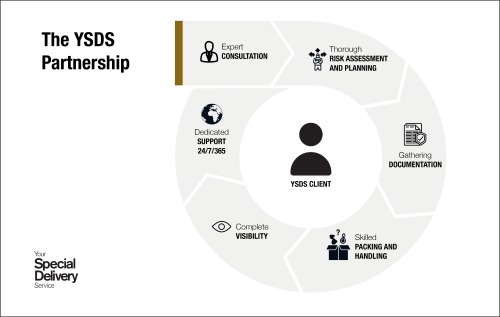 YSDS is an international logistics company specializing in high-quality logistics consulting and seamless global shipping solutions. A partnership with us means a GDP certified 24/7/365 service to consult, plan and execute your logistics needs:
Temperature sensitive shipments
Tailored routing for fastest TAT
Document checks prior to collection
Best in class packaging solutions
Dry ice replenishment
360 shipment and dangerous goods management
Tracking and visibility
When you partner with YSDS, you will have a dedicated sales contact which is a direct line with the same member of the sales team. This allows us to send quotes faster and have a better understanding on your specific needs. As well as this, you will have a dedicated operations contact, who will implement a bespoke SLA, risk assessment for each shipment and prepare a tailored 'ready to ship' procedure.
With YSDS it's all about the people. We believe in building a strong partnership where we both can benefit from each other's support.
Give us a call or send an email and let us find the perfect shipping solution for you.
Liam Gordon, liam.gordon@ysds.com, 07766 716150