Meet our supplier: Perfectus Biomed
Published on 17/09/2020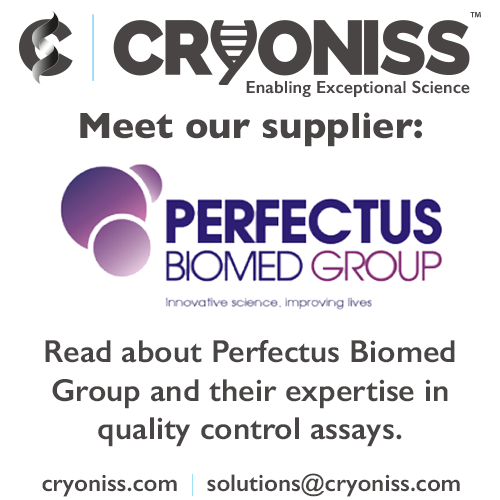 Perfectus Biomed partners with Cryoniss to provide cell culture quality control services, authenticating and screening cell lines for contamination prior to research. Perfectus Biomed are delighted to be the preferred supplier to Sonia and her team, a relationship which developed from a shared passion to provide the very highest quality service enabling clients to achieve relevant, accurate, reliable and reproducible results.
We are proud to now offer full range of cell line authentication and screening to Cryoniss' clients, with quick turnaround at highly competitive rates:
Mycoplasma contamination detection

Human cell line authentication

Non-human cell line authentication

Murine, human and xenotropic virus detection

STR profiling (9, 18 and 24 loci)

Cell culture sterility testing
Fundamental to world-class research is starting with high quality samples. The testing from Perfectus Biomed perfectly complements the integrity maintained by Cryoniss' storage solutions and ensures complete quality control.
Who are Perfectus Biomed?
Perfectus Biomed are a GLP-compliant and UKAS accredited ISO 17025 contract testing laboratory. We are leaders in providing standard and customised microbiology testing services to clients in a variety of sectors, including wound care, medical devices, pharmaceutical, cosmetics, disinfectants, dentistry and oral care. Incorporated in 2012 and located at SciTech Daresbury, Dr Samantha Westgate started Perfectus Biomed to fulfil an unmet need for excellence in biofilm testing. In the following 8 years her team has grown in number, moved into larger laboratories, expanded into new markets and developed novel techniques, collected numerous awards and achieved accreditation and certification, time and again demonstrating the world-class service that Perfect Biomed provides.
We specialise in tailoring antimicrobial assays and performing customised, accredited biofilm methodologies. Our dedicated team of PhD scientists adopt a client focused approach, working to commercial timescales to deliver market-leading microbiological testing. Most recently Perfectus Biomed merged with North American based Extherid Biosciences, thereby expanding both the range of services on offer and the global footprint of the newly formed Perfectus Biomed Group.
Perfectus Biomed prides itself on continually seeking new ways to meet testing requirements, by bringing new methods in-house or developing novel customised testing. We saw the opportunity to solve many issues around cell line authentication and screening availability.
Perfectus Biomed are here to support the growing demand for this type of testing as awareness increases around more stringent validation of samples.
For more information about these services or Perfectus Biomed's wider offerings, please contact qc.testing@cryoniss.com.