New Products: Cyanine-based near-infrared fluorochromes
Published on 22/09/2021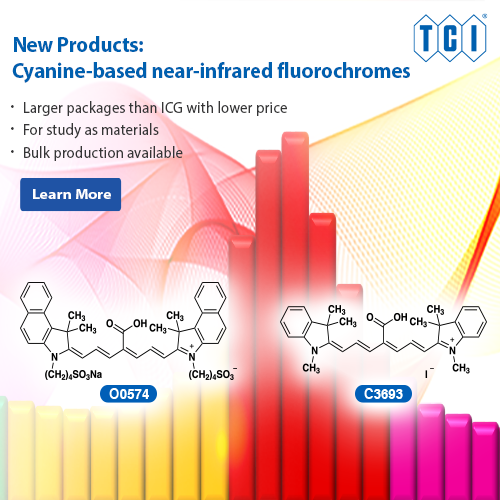 TCI presents new Cyanine-based dyes with properties similar - but not equal - to indocyanine green.

Since its foundation in 1946, TCI's philosophy has been to contribute to society through the manufacturing and supply of organic laboratory chemicals. We are proud, that today our company offers more than 30,000 quality reagents on a global basis. In recent years, our business has also expanded to the manufacturing of fine chemicals such as pharmaceutical and cosmetic raw materials, electroluminescent compounds, and building blocks for liquid crystals.
Cyanine dyes are useful for silver photography, and optical recording media by laser sensitivity. There are cyanine dyes exhibiting near infrared absorption, for instance, indocyanine green (ICG) is a cyanine dye with maximum absorption around 800 nm and used as a diagnostic agent. In addition, various derivatives of ICG are investigated as minimal invasive and bio-imaging dyes with low toxicity.
Here we present two new cyanine dyes, O0574 and C3693, with solubility and reactivity characteristics similar – but not equal – to ICG. Also their Fluorescence Spectra and an Application Method are presented.
For more information: Cyanine-based Near-infrared Fluorochromes | Tokyo Chemical Industry UK Ltd. (tcichemicals.com)
Contact:
Tokyo Chemical Industry UK Ltd.
The Magdalen Centre
Robert Robinson Avenue
The Oxford Science Park,
Oxford OX4 4GA
Tel: 01865 784560
E-mail: Sales-UK@TCIchemicals.com
You can also contact our local sales representative Mr. Robbie Benning: Robbie.Benning@TCIchemicals.com