Developing the next generation of responsible leaders
Published on 20/07/2021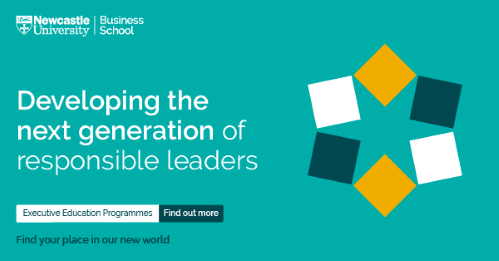 In recent years, mounting social pressure has contributed to a significant shift in the type of leadership seen across businesses from start-ups in their infancy to multi-national corporations.
As the world becomes increasingly aware of the impact businesses have on the triple bottom line, people, planet and profit, it's important for those at the top to embrace responsible leadership.
What does responsible leadership look like?
Dr Jenny Davidson, Executive MBA Programme Director explains "Responsible leadership is all about adopting a responsible approach to the way that we lead, stopping to think about the wider impact of our actions on society and the environment. This might mean considering our wider stakeholder group, the natural systems within which we are operating and their limits.
It's crucial to begin by exploring and understanding how our individual roles might contribute to tackling global challenges such as climate change and gender inequality and in doing so to recognise the value that our individual actions might bring. Responsible leaders are always looking up and out beyond their role, organisation and sector".
How is leadership education changing and what is Newcastle University Business School's approach to it?
Dr Joanne James, Director of Executive Education explains "Leadership education recognises that we are working in volatile, uncertain, complex and ambiguous contexts. Leadership is not a position or an individual person but a series of practices that enables collaborative action towards a common mission. Continuous learning and collaboration with others is central to these practices.
As a result, the educational journey for every individual is unique depending upon their context. Our role as educators is to create a process where we present models and frameworks in such a way that students can reflect on the utility of the theory in relation to their organisational context and their own practices".
Executive Education programmes designed to build leadership competencies
Newcastle University Business School's
Executive Education programmes
support senior managers and leaders to enhance their leadership skills, whilst studying part-time alongside their work.
Three part-time Master's programmes are available to study:
Coaching and Mentoring MSc
,
Executive MBA
and
Strategic Leadership MSc
as well as two
Level 7 Senior Leader
Apprenticeships
designed in collaboration with the Chartered Management Institute (CMi), with a professional pathway to Chartered Manager status.
According to research conducted by CMI, businesses can be at risk because of what they term as 'accidental managers'. Accidental managers are often highly skilled and excel in technical roles but are thrown in at the deep end in a senior managerial or leadership position.
Senior Leader Apprenticeships
are designed to build leadership competencies, supporting individuals and organisations to develop the next generation of responsible leaders who are able to navigate challenging work contexts.
Senior Leader Apprenticeships
can be funded through the Apprenticeship Levy with a separate progression route onto the Master's programmes.
Newcastle University Business School also offer fully funded
Executive Education Scholarships
for individuals who can demonstrate their potential to have a positive, sustainable impact on society and the economic recovery of the region.
Find out more
If you'd like to find out more about our Executive Education programmes, the support available via the Apprenticeship Levy, or simply ask us a question, visit our
webpage
, where you can sign up for an information session and meet our dedicated teaching team, or register your interest.