PwC becomes a partner in the Medicines Manufacturing Innovation Centre
Published on 11/02/2021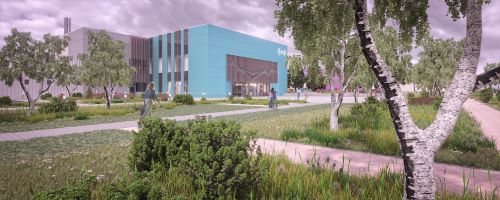 CPI has today announced the signing of an agreement with PwC, making it a partner in the Medicines Manufacturing Innovation Centre collaboration. The partnership will utilise PwC's global reach, expertise and experience within the life sciences sector to benefit patients, drive economic growth and help cement the UK as a world leader of advanced medicines manufacturing innovations.
PwC will join founding partners CPI, the University of Strathclyde, GSK and AstraZeneca to address challenges and maximise technology opportunities within the pharmaceutical supply chain. This will be achieved through the flagship 'Grand Challenge' projects, which are advancing emergent and disruptive technologies. The programme is part-funded by Innovate UK through the Industrial Strategy Challenge Fund and Scottish Enterprise via the Scottish Government.
PwC will contribute significant value to the consortium, chiefly by increasing opportunities for business development by leveraging its global connectivity and brand authority. In addition, PwC will evaluate the marketplace for future technologies, acting as a scout for new disruptive innovations, organisations and global opportunities. Finally, PwC will develop market analysis and studies to communicate the value of current and future projects and demonstrate impact while helping to seek funding from private investors, industry and government.
The partnership was fostered through a mutual understanding of how strong collaborations can lead to economic growth, while also offering direct benefits to patients, industry and the Government. By identifying, evaluating and executing innovative technology at a faster pace, PwC will help to provide value to patients faster. This will also help to drive the economy and improve the pharmaceutical supply chain while adding technology to develop a new hub of advanced manufacturing at the Medicines Manufacturing Innovation Centre.
Johnathon Marshall, UK Pharma and Life Science Consulting lead at PwC, said: "We are excited to join the team at the Medicines Manufacturing Innovation Centre – bringing PwC's insights, experiences and connections. We are confident that this collaboration will have a big impact on the future of pharmaceutical manufacturing."
Scott Lawson, a Glasgow-based director at PwC, added: "The planned new facility in Renfrewshire is befitting of the strength and depth of the pharma and life sciences capabilities here in Scotland. We have a highly skilled team within our pharma and life sciences industry group, and we're really excited to be embarking on this partnership with the Medicines Manufacturing Innovation Centre. Looking at the cutting-edge advanced manufacturing capabilities that exist here, we see it as a very significant GDP growth area for the UK."
Dave Tudor, Managing Director of the Medicines Manufacturing Innovation Centre, Biologics & Quality at CPI, said: "By partnering with PwC, the Medicines Manufacturing Innovation Centre will be able to work smarter, better and faster, ensuring more value to patients and the economy while advancing the UK's already strong medicines manufacturing industry even further."
Neil Sheddan, Business Development Director at the Medicines Manufacturing Innovation Centre at CPI, said: "This partnership will support the Medicines Manufacturing Innovation Centre to reach new innovative organisations and markets, leading to more opportunities for industry to collaborate on next-generation technology."