Gericke becomes a partner in the Medicines Manufacturing Innovation Centre to advance pharmaceutical manufacturing
Published on 21/01/2021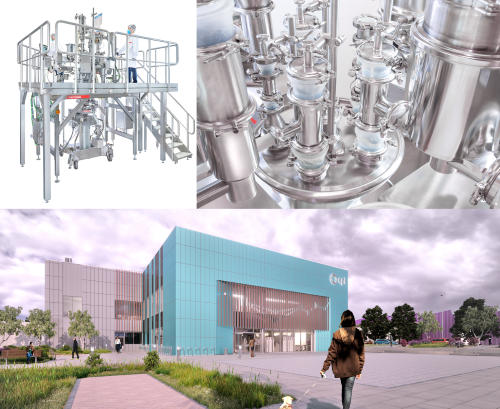 CPI and the founding partners of the Medicines Manufacturing Innovation Centre have today announced the signing of an agreement with Gericke AG, making it a partner in the collaboration. This partnership will draw on Gericke's extensive experience in powder processing equipment and systems to support the Centre's flagship Grand Challenges, which are advancing pharmaceutical manufacturing.
The Medicines Manufacturing Innovation Centre is a collaboration between CPI, the University of Strathclyde and founding industry partners, GSK and AstraZeneca with funding provided by Scottish Enterprise and UK Research and Innovation. The Centre aims to address challenges and maximise efficiency within the pharmaceutical supply chain through a series of 'Grand Challenges'. The first of these, Grand Challenge 1 (GC1), focuses on the development of an innovative continuous direct compression (CDC) platform, which will help enable oral solid dosage medicines to be formulated more robustly and efficiently.
Gericke, a specialist in powder processing solutions, will help accelerate Phase 1 of GC1, whilst minimising costs and significantly reducing risk. As the first supplier of continuous blenders to the pharmaceutical industry in the early 2000s and a provider of value-added systems to companies globally, Gericke will offer the Centre crucial expertise in end-to-end technology solutions for powder processing, vital for the development of continuous tablet manufacturing. Gericke's network of technology suppliers will additionally support the proposed installation of an integrated, automated CDC line at the Medicines Manufacturing Innovation Centre facility in Renfrewshire, UK, enhancing its pharmaceutical manufacturing capabilities.
This new partnership will build on Gericke's existing contributions to Phase 1. This includes the provision of a highly modular and integrated system, suitable for both continuous and mini batch blending, making the machine suitable for a wide variety of products, market demands and supply chains. As a partner in the Medicines Manufacturing Innovation Centre collaboration, Gericke will provide further specialist insight and support, including high-quality testing and data generation to inform strategic decision-making and progress through Phase 1. Gericke's technological expertise will be an asset to GC1 and its goal of developing an innovative CDC platform, but also has the potential to prove invaluable in the progression of Phase 2 and future Grand Challenges.
Dave Tudor, Managing Director of the Medicines Manufacturing Innovation Centre, said: "We are thrilled to be partnering with a major automated technology platform supplier like Gericke and we're looking forward to building on its contributions to GC1. Gericke's wealth of expertise in automated powder processing systems and equipment will contribute to the success of our work, developing a continuous direct compression platform and advancing pharmaceutical manufacturing."
Bernhard Meir, Head of Continuous Manufacturing at Gericke, said: "We are delighted to have been introduced into this partnership with the Medicines Manufacturing Innovation Centre. GC1 is a very exciting project, and the skills and experience we at Gericke can provide will help to guarantee its success. This unique opportunity will allow us to work alongside key industry players and contribute to the UK's leading initiative to drive innovation in medicines manufacturing."