Expert Insights from the Small Molecule Experts (Part 2)
Published on 06/07/2020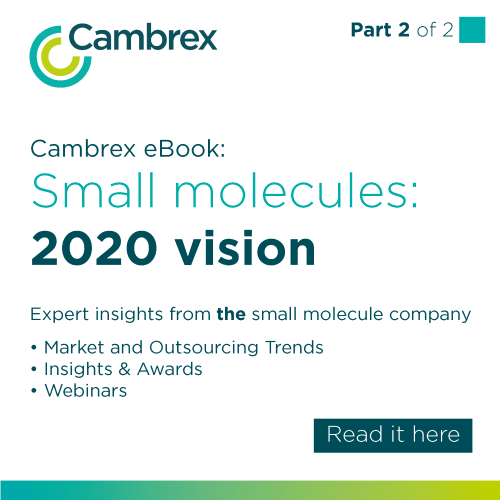 The successful integration of Halo Pharma and Avista Pharma Solutions has transformed Cambrex into a true end-to-end CDMO. The past year has been a busy one with our global teams focused on the strategic transformation and the expansion of our capabilities and services across the entire small molecule lifecycle.
Industry growth
The pharmaceutical industry continues to grow and is estimated to be worth $1.5 trillion by 2021, driven by positive industry trends — many of which our experts commented on in Part 1. Market data shows just how big the small molecule pharmaceutical market is, making up 65% of the total clinical pipeline and growing at the fastest rate seen in more than a decade.
Investing to stay ahead
As a CDMO, our success lies in the ability to serve our diverse customer base and evolve with the industry, while striving to stay one step ahead. We are continually adapting and enhancing our approach and resources to offer the most appropriate outsourcing solutions in terms of capacity, expertise and technologies on a global basis. This enables us to handle a wider variety of drug substance and drug product projects and chemistries with greater flexibility than ever before.
From lab-scale to commercial manufacturing, adapting to the dynamic demands of the marketplace is crucial. Our commitment to investing in technologies such as continuous flow, solid-state chemistry and high potency manufacturing facilities will benefit us and, most importantly, our customers.
Enjoy
Part 2
of our latest Cambrex insights.