SRG appoints Director of Client Solutions
Published on 03/03/2020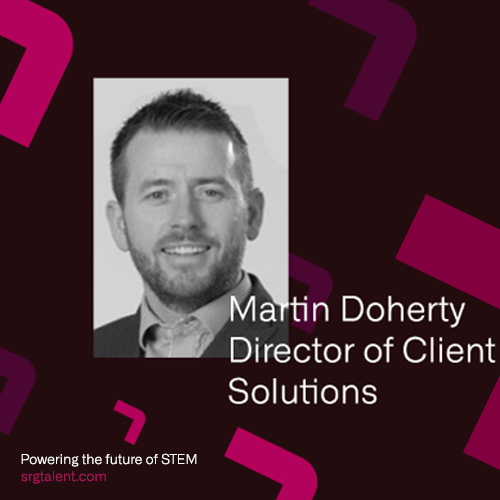 Manchester, UK - 02 March 2020
Martin Doherty has joined SRG as Director of Client Solutions. He joins the UK's number one STEM recruitment agency at a time of global consolidation and growth.
Martin was with Morson International for nine years where he was responsible for business development and strategic account management, plus the management and leadership of Morson's UK Manufacturing & Engineering Division.
Doherty comments: "A new chapter in my career has now started with another true market leader in SRG where I will be responsible for developing and leveraging new and existing client relationships across SRG's industry leading portfolio of services. I am very excited to be part of SRG's future growth strategies"
On the hire, Kelly Morton MD said: "Martin is the latest senior hire to help steer our client solution offerings and align with our global approach to market. We have an extremely strong Senior Leadership Team and Martin's wealth of experience and knowledge adds to that strength".
About SRG
As a global STEM network with over thirty years of experience, SRG applies specialist knowledge and expertise to a full spectrum of roles and talent solutions. SRG covers the whole product life cycle, from scientific research and technology, clinical trials, manufacturing and engineering disciplines to market.
We know our success comes from talent and connections, that's why we put people first. We focus on building lasting relationships with clients and candidates to help them reach their potential. We believe in thinking bigger to go further.

We are part of Impellam group, 2nd largest staffing company in the UK and 6th largest Managed Service provider worldwide. Our vision is to become the world's most trusted staffing company.
Media contact: press@impellam.com | +44 (0)2030 964 661