Stream Bio launches Conjugated Polymer Nanoparticles worldwide with Sigma Aldrich
Published on 01/10/2019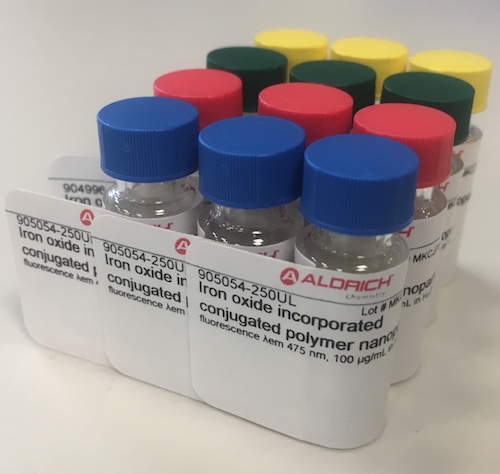 Stream Bio, a company that develops and manufactures a range of revolutionary bioimaging molecular probes,is delighted to announce that its Conjugated Polymer Nanoparticles (CPNs™)are now available to purchase worldwide through Sigma Aldrich.
The news represents another significant step forward for the company, enabling a wide range of users across the world to purchase these highly fluorescent, non-toxic molecular probes. This will cement the company's place as a global leader in the conjugated polymer nanoparticles market and facilitate the use of their technology throughout the evolving bioimaging field.
Stream Bio's CPNs have applications in diagnostics and therapeutics, with the potential to be used for imaging tumours and fluorescence-guided surgery. These highly fluorescent, non-toxic nanoparticles are set to transform the bioimaging market with their unique brightness, exceptional stability, magnetic capability and suitability for conjugation with a wide range of molecules.
Currently, CPNs are available in four wavelengths; 475nm, 510nm, 550nm and 680nm. They can also be purchased in a conjugated form, with fluorescent streptavidin covalently attached. This enables them to be used in different protocols for the detection of a variety of proteins, protein motifs, nucleic acids, and other biomolecules.
Initially, a small range of unconjugated CPNs will be available to purchase from Sigma Aldrich, with a wider range of products soon to be included in the listing.
Steve Self, Commercial Director at Stream Bio, said: "The listing by Sigma Aldrich is an important step in terms of making our CPN technology available to a wider user base. We are excited to have many new products in the pipeline, which will broaden the application of our technology by spanning into the NIR region. In addition, a variety of new surface chemistries are also in development. We hope that this is the first of many collaborations with Sigma Aldrich and the Merck Group."
Andrew Chaloner, Founding Director and CEO of Stream Bio, commented: "We are delighted to be launching our range of CPNs with Sigma Aldrich. This has only been possible thanks to many years of hard work put in by the team here at Stream. I am excited to have our products available to a wider user base and I can't wait to see what the future holds for our products."

About Stream Bio
At Stream Bio, we develop and manufacture innovative bioimaging molecular probes. Our superior Conjugated Polymer Nanoparticles (CPNs™), expertise and partnerships with industry and academia, enables us to create CPN™ solutions for many R&D and in-vitro diagnostic applications, which address longstanding problems within the life science industry. Invented in the research labs of King's College London, Stream Bio was founded as the vehicle through which to demonstrate the wide-ranging benefits and applications of CPNs™ to the world. Our approach combines a forward-thinking attitude with a breadth of industry expertise in both science and business, enabling us to create CPN™ solutions for the various strands of the life science industry. In the not too distant future, it is expected that Stream's technology will positively impact in vivoR&D, diagnostics and therapeutics.
For more information, please visit: https://www.streambio.co.uk