Expansion for laboratory removals firm Aport with new base at Alderley Park
Published on 18/08/2021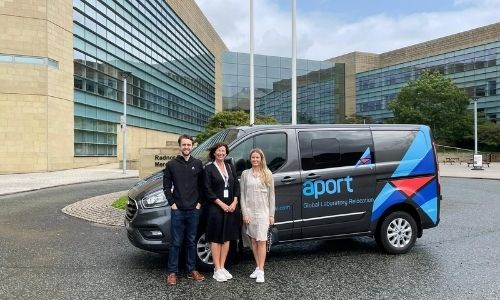 Laboratory removals specialist Aport is expanding with new Cheshire premises at Bruntwood SciTech's Alderley Park.
Experts in relocating laboratories and moving scientific equipment, data, and samples all over the world, Aport has seen a growing demand for its services due to the increased focus on science as a result of the complexities macro-environmental changes have brought about on an international scale such as Brexit, and of course, Covid-19.
Aport has specialists in every area of the end-to-end service including project management, laws and regulations, insurance, removals, and pre and post-move functionality testing which allows its customers to peace of mind that their relocation, however intricate, valuable or fragile it is, is in the best hands.
The business, headquartered in Adlington Lancashire, felt Alderley Park was a natural place for its next UK office due to its thriving scientific community and spirit of innovation. The £247 million development on a 400-acre site near Macclesfield is already home to over 200 life science and tech businesses including national institutions such as Cancer Research UK Manchester Institute and the Medicines Discovery Catapult.
Tim Aspey, managing director of Aport, said: "We are delighted to be preparing to move into our new address at Alderley Park – a location which has an outstanding reputation for scientific excellence. Demand for Aport's specialist laboratory relocation services has never been higher so opening a new base in close proximity to so many potential customers was an obvious next step in our expansion."
Aport is the first company in the world to offer fully integrated and compliant laboratory relocation services across the globe, delivering end-to-end project management performed to industry recognised GxP standards. The expanding firm has a global presence with agents located in Singapore and North America, and they are already looking at where else they can expand to within the UK and further afield.
Jane Wood, Aport's business operations and development manager said: "The whole Aport team is excited about starting this new chapter and we're looking forward to meeting our new neighbours at Alderley Park. We love the sense of community at the campus, and this was one of the major factors in our decision to establish an office there."
Anyone interested in meeting the Aport team or finding out more about the specialist relocation and storage services it offers should email Jane on woodj@aportglobal.com or call 07702 539 346.