Origin Pharma Sets Out To Become Commercialisation Partner to the Life Sciences and Diagnostics Industries.
Published on 07/07/2021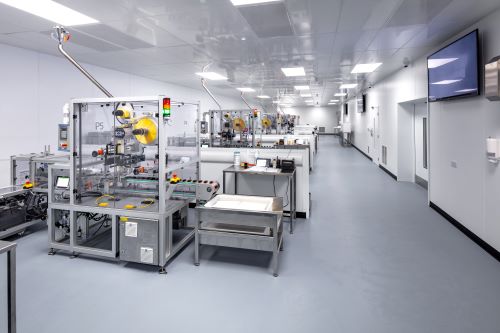 As a market leader in pharmaceutical packaging from jars and bottles to child resistant caps and CBD containers the next growth phase of the business, saw Origin undertake a huge investment programme to create a new state-of-the-art aseptic facility to become the leading commercialisation partner for the Life Sciences and Diagnostics industries.
In-house market-leading aseptic filling – 7 ISO 5 filling environments
With seven automated filling machines and a capacity of around 3million vials per week ,our state-of-the-art liquid filling facility has been specifically designed to meet and surpass the stringent regulations laid out by ISO standards, ensuring that it consistently provides suitable and versatile environments for aseptic filling. Currently working to ISO13485 we are able to bring a new and innovative offering to the 'Contract manufacturing' space.
Supply Chain Efficiencies
The benefits of a fully automated liquid filling line are wide-ranging. Aside from the crucial factor of sterile conditions within a sealed cleanroom, we take the complexity away from our clients by delivering every element of product development under one roof. By managing the meticulous processes of design, innovation, development, tooling, filling, storage and distribution within our Yorkshire facility we are able to reduce our customers overall supply chain costs with no requirement to import components for their contract filling projects.
Wide-ranging capabilities
The vial filling suite can handle any and all of your specifications, including sterile and non-sterile formulation and filling for everything from liquid medical devices to the full spectrum of liquid healthcare products. This means that whether your product is medicinal or falls under another area of health and wellbeing, we're your trusted partner for all large scale cleanroom manufacture activity.
SnappD
As part of our expansion into aseptic filling we have also commissioned an ISO122716 compliant recyclable sachet filling machine. This innovative and unique plant sees products including hand sanitiser and cosmetics brought to life through a one handed dispensing sachet. Further information into how to bring your brand to life can be found at
www.snappd.com
We welcome you to our state-of-the-art facility and discover how our capabilities can be uniquely adopted to your up and coming fill/ finish projects.
If you are embarking on a new projects and you require leading aseptic filling facilities please contact Jenny McGuckin: 01482 638380 or jenny.mcguckin@originltd.com