Liverpool recruits first UK patient for personalised 'therapeutic cancer vaccine' trial
Published on 01/07/2021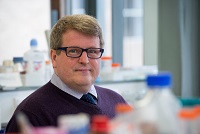 Researchers in Liverpool have begun recruiting patients to a 'first-in-human' clinical trial of personalised 'vaccines' that aim to reduce the risk of head and neck cancers – which include mouth, throat, tongue and sinus cancers – from recurring.
A team of cancer researchers from the University of Liverpool, Liverpool Head & Neck Centre, The Clatterbridge Cancer Centre and Liverpool University Hospitals are trialling new vaccines – tailored to each individual patient's cancer – to see if it reduces the risk of head and neck cancer returning.
The Transgene trial will involve around 30 people who have just completed treatment for advanced, but still operable, HPV-negative squamous cell carcinoma of the head and neck (SCCHN).
HPV-negative head and neck cancers (i.e. those not linked to human papilloma virus) have a particularly high rate of recurrence. The most common form is squamous cell carcinoma of the head and neck, which can involve many different kinds of gene mutations resulting in the production of new proteins (called 'neoantigens') that vary widely between patients.
The Transgene trial aims to tackle this by developing individualised 'therapeutic vaccines' – a personalised form of immunotherapy that is specifically designed to trigger an immune response to the new antigen resulting by a particular gene mutation linked to each patient's own head and neck cancer.
Each patient's treatment will be individually created just for them – their 'neoantigens' are turned into a treatment using a well-established and effective vaccine technology. It is hoped that the resulting vaccine will trigger the person's immune systems to recognise, attack and kill any new cells with that particular gene mutation.
The randomised Phase I trial will test how well the cancer vaccine triggers an immune response in patients – and whether this reduces the rate of recurrence.
Half of the patients will receive their vaccine immediately after they complete their initial treatment. The other half won't receive it unless their cancer returns, but will then receive it in addition to the standard treatment for recurrence.
The first UK patient has now been recruited in Liverpool and vaccine production has begun at the Transgene laboratory in France. More patients will be recruited in coming months, with the aim of administering the first vaccine in a few months, when the usual treatment has been completed.
Chief Investigator for the UK trial, Professor Christian Ottensmeier, who is Professor of Immuno-Oncology at the University of Liverpool and Consultant Medical Oncologist at The Clatterbridge Cancer Centre, said: "This is an early-phase trial but, if successful, this approach could be a potentially game-changing development in the treatment of advanced head and neck cancers. We have spent the last 15 years working on the science behind this immunotherapy so it is very gratifying to begin clinical trials with the first patients.
"Head and neck cancers are particularly complex to treat if they spread and cannot then be completely removed surgically. Personalised cancer vaccines are an extremely exciting development and, if successful, the same technique could also be applied to treat other forms of cancer."
For more information click here