Infex Focuses on Pandemic Preparedness with Covid Patent
Published on 08/04/2021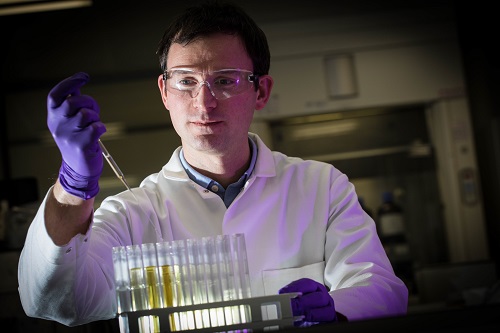 Alderley Park, Cheshire
- Infex Therapeutics has filed for a UK patent for a novel therapy designed to tackle all coronavirus strains.
The COV-X program targets a protein which is essential for viral replication across a broad spectrum of related coronaviruses, including SARS-CoV-1, MERS-CoV and SARS-CoV-2.
If successfully developed, the treatment aims to form a first line of defence against potential future pandemics. It could be administered as a precautionary measure to vulnerable groups including the elderly, immunocompromised people, and healthcare workers, greatly reducing the health risks and buying time to allow a bespoke vaccine to be produced.
Dr Peter Jackson, executive director, Infex Therapeutics, said: "We all hope the COVID-19 pandemic is approaching its end, but it's crucial we don't lose sight of what could, and sadly inevitably will, come next. The filing of this patent is a satisfying milestone for our team and is the product of some great science over the past year.
"Throughout the early stages of COVID-19 it was evident that treatments and products were not available on the shelf to allow governments and healthcare organisations to slow down the pandemic. Through our work, we hope to develop antiviral products that will help reduce infections as a result of viral replication from a new coronavirus strain.
"Establishing the effectiveness of a novel and differentiated series of compounds early will be crucial, and we look forward to exploiting the opportunities this patent presents in order to help protect lives and economies across the world whenever the next coronavirus pandemic arrives."
Recent research has shown that the structures of key essential proteins are consistent across different coronavirus types, giving the potential to develop new therapeutics with broad spectrum activity across related pathogens with the potential for futureproofing against outbreaks and pandemics.
Infex Therapeutics is now embarking on a fast-track development program for the COV-X project, to take these promising research results forward into clinical trials.
The program is backed by the Hits-to-Leads program within iiCON, the infectious disease innovation consortium led by the Liverpool School of Tropical Medicine and supported by the Strength in Places Fund.
The patent attorneys HGF Ltd advised Infex Therapeutics.
ENDS
For media enquiries about Infex Therapeutics, please contact Chris Hulme 07971 350116
hulme@thisisinfluential.com
About Infex Therapeutics
Infex acquires, develops and licenses innovative drugs to treat pandemic infections and are creating a portfolio of new therapies to meet the rising burden of critical priority infectious disease. Based at Alderley Park in the North West of England, our work addresses unmet patient needs and will bring new portfolio of drugs into clinical trials to treat patients suffering from life-threatening infections. Our mission is to ensure that all new, novel and needed drugs can get to market in the shortest possible time. We have developed a partnering model to support this aim. It will progress research through to clinical trial quickly so that treatments can be brought to market and the threat from infectious diseases can be significantly reduced.