Liverpool invests in immunology cancer research
Published on 02/12/2020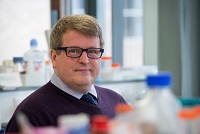 World-leading experimental cancer researcher Professor Christian Ottensmeier has been appointed to lead a team of interdisciplinary researchers, focusing initially on immuno-oncology in head and neck and lung cancer, as part of a strategic investment to drive forward cutting-edge patient relevant research in the region.
Professor Ottensmeier has taken up the role of Chair of Immuno-Oncology at the University of Liverpool and consultant oncologist at The Clatterbridge Cancer Centre NHS Foundation Trust, following 25 years at the University of Southampton.
The overarching aim of his group's research is the preclinical development and early phase clinical testing of strategies to induce anti-tumour immune responses in patients.
Professor Ottensmeier, who will be based at the Liverpool Head and Neck Centre, said: "I am delighted to be part of this exciting development, which will allow me to levy my laboratory and translational science to help improve treatments for cancer patients in Liverpool, Merseyside and Cheshire. It is fantastic to join strong collaborative teams who have patient benefit at the heart of their agenda."
NHS collaboration
Supported by a strategic funding award from the National Institutes of Health (NIH), Professor Ottensmeier is collaborating on new studies with NHS colleagues who treat patients with head and neck cancer and lung cancer. This research will use tissue samples from surgical patients to test whether exposure to different viruses affects how the patients' immune system can recognise and attack cancer cells.
"We predict that these studies will help us to understand why some patients' cancer can be treated successfully, for example with immunotherapy, and why some patients have cancer that progresses quickly without benefit from the best treatments available today," added Professor Ottensmeier.
Professor Terry Jones, Director of the Liverpool Head and Neck Centre, said: "Liverpool Head and Neck Centre is the UK`s largest integrated NHS / university collaboration for research and treatment of patients with disease of the head and neck; >750 cases of head and neck cancer are diagnosed and treated in Liverpool every year. The appointment of Professor Ottensmeier and his team facilitates a step-change in mucosal and head and neck tumour immunology research which will result directly in better treatments for our patients."
For more information click here