Durham University awarded £1.4m to support industry and academic collaboration
Published on 25/09/2019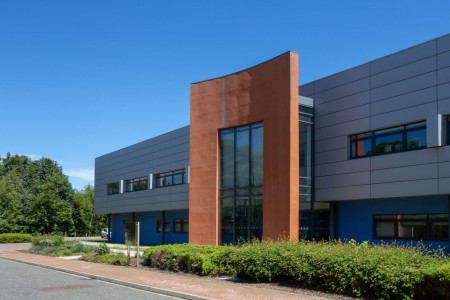 Durham University has been awarded over £1.4m to support collaboration between university researchers and small and medium sized enterprises (SMEs).
With funding from Research England and UK Research and Innovation (UKRI), Durham will develop a University Enterprise Zone (UEZ), a government-led initiative to encourage universities and businesses to work together to support local economic growth.
The UEZ will link Durham University's world-leading research expertise with businesses across a range of sectors that can benefit from the University's specialist knowledge.
The enterprise zone funding will support the development of business accommodation at the North East Technology Park (NETPark) in County Durham, one of the UK's leading science parks, managed by Business Durham, the economic arm of Durham County Council.
The accommodation will include lab space, hot desks, and meeting facilities co-located within one of the University's research institutes at NETPark.
Up to 17 businesses will have the opportunity to be based at the UEZ, including spinout companies that are commercialising university research, and our student led enterprises.
Professor Stuart Corbridge, Vice-Chancellor of Durham University, said: "We are delighted to receive funding from Research England and UKRI to develop our enterprise zone at NETPark.
"This is a fantastic opportunity to bring together some of the world's best researchers with businesses to drive innovation and growth in the North East of England and further afield.
"We recognise the vital role the University plays in local economic development. By working with the CPI and Business Durham, we hope that the UEZ will drive up levels of research investment in the region, promote productivity and support job growth."
Businesses at the UEZ will have access to a wealth of guidance, support and learning, including University researchers who will provide regular sessions to exchange knowledge across a range of subjects.
The UEZ will be open to all businesses who want to collaborate with the University and our partners, providing access to academic expertise.
Cllr Simon Henig, Leader of Durham County Council, said: "Durham County Council has had a well-established relationship with Durham University for many years now and we are looking forward to building on our past successes with the further growth and development of our NETPark site."
The UEZ builds on the success of the Northern Accelerator programme, a collaboration between Durham, Newcastle, Northumbria and Sunderland universities to commercialise academic research. The UEZ will provide the 'next step' for Northern Accelerator-supported companies, as well as student businesses at the Durham City Incubator which are ready for the next stage of their business development.
Completion of the UEZ is scheduled for autumn 2020 and it will open its doors to businesses in early 2021.
Sophie Walton, Group Director of Academic Engagement at CPI, said: "This announcement is a fantastic boost for research and investment in the North East of England and will also help to strengthen the long-standing strategic partnership between Durham University and CPI."
Initial expressions of interest to be part of the UEZ can be sent to:
business.gateway@durham.ac.uk