BioFocus – Strategy and Science converge to drive the North East's Life Science sector forward
Published on 17/07/2019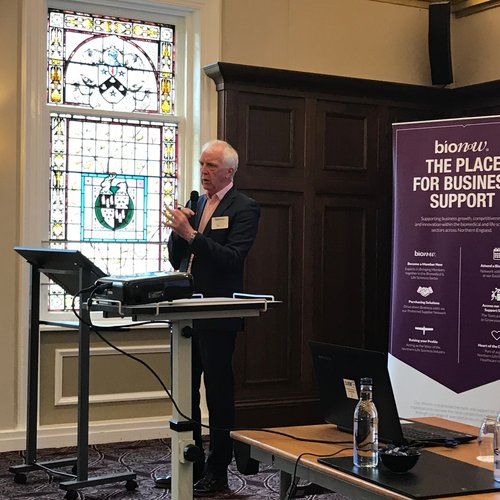 At Bionow we always strive to make our conferences engaging and interactive to delegates and BioFocus 2019 was no exception.

Taking place in Newcastle on Wednesday 10th July, this years' Conference intertwined strategy and science and from the opening keynote by Professor Roy Sandbach to the engaging and thought-provoking panel debate chaired by Ramarketing and Bionow NED Emma Banks, BioFocus provided a far reaching and simulating day.
The North East LEP is a big supporter of major projects in the North East region such as the Biosphere, CPI's National Healthcare Photonics Centre, the Advanced Therapies Treatment Centre and the National Innovation Centre for Ageing. These ecosystem cornerstones were all addressed in depth in themed sessions, with presentations tackling subjects such as Ageing and Human Mobility and the Health span, and even a presentation considering how we might increase life-span or even reverse ageing, which really got the audience thinking!
A session showcasing Bionow Members provided a useful bridge between the morning and afternoon, with 3 Bionow members invited to present on their businesses. Williams Process took the opportunity to explain the work they have undertaken with Micropore Technologies to increase efficiency and productivity in the Pharma Manufacturing sector. Alcyomics talked about their market leading technology in skin testing for drug development and cosmetics. Finally, there was last years' Bionow Awards winner LightOx providing an inspirational presentation on how they have developed spin out research from Durham University into a company with really exciting potential in the drug discovery and oncology fields.
The afternoon sessions focussed more about what is going to happen in the future and the tangible benefits of strategy. An inspiring and insightful afternoon keynote from Professor Che Connon, an academic entrepreneur who has founded a series of spin out companies from Newcastle University, set the tone for how the Life Sciences sector will be a key part of the economic future of the region going forward.
Next up a session showcasing some of the Northern Accelerator's exciting spin out companies such as AMLo Biosciences, Atelerix and Pepmotec, and with the Northern Accelerator's programme to sustain this production line of talent and ambition the future does look really positive.
The Conference closed looking to the future - a panel of key people including the NELEP's Richard Baker, Biosignature CEO Will Dracup, AHSN NENC's Rachel Morris and Iksuda Therapeutics CEO Dave Simpson giving their thoughts on the challenges and opportunities that face the Life Sciences sector for the North of England. This involved a good degree of audience participation with crucial points being raised by members of the audience, and discussions ranged from access to capital to Brexit. The overall general conclusion was that we are making progress in the North but with some challenges ahead. Let's see where we are this time next year!
I hope to see you at BioFocus 2020 which will be another great opportunity to bring the sector together, take stock and move forward.

Photo: Professor Roy Sandbach delivering morning keynote.