2018 BioCap Call for Pitches Competition Winner Announced
Published on 01/10/2018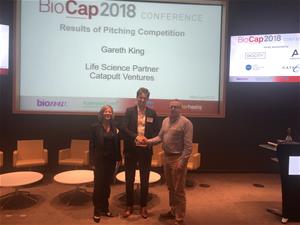 Bionow are delighted to announce LIG Biowise as the winner of the 2018 BioCap Call for Pitches Competition.
The BioCap Call for Pitches Competition is a unique opportunity for companies who are seeking investment, to present to the international life science investment community, more than 60 of whom were present at the 2018 BioCap Conference which took place on Thursday 27th September at Alderley Park Conference Centre.
LIG Biowise believe that diagnostics can be made smarter, better, and faster, They are building a diagnostic technology that can be used at the point of care to identify multiple pathogens simultaneously. This will empower clinicians and provide vulnerable patients the immediate reassurance that they deserve and expect. Furthermore, they will create a network in which repeated testing of patients at the point of care builds up a digital map of pathogens that could be used to track outbreaks of disease, and make prescribing personal and targeted. They are currently seeking their next round of funding for their Point of Care device LUCERNA.
Gareth King, Life Science Partner at Catapult Ventures said "I am extremely grateful to my fellow judges Rebecca Todd from Longwall Ventures, Nathan Day from Manchester Technology Trust Angels, Claire Brown from BioCity and Mark Wyatt from Mercia Technologies. We found the quality of all the pitches to be extremely high and once again found it difficult to select a winner but Alex Sheppard, CEO of LIG Biowise presented an excellent pitch for funding with a well thought through plan that convinced the judging panel."
BioCap is organised by Bionow in partnership with RSM, Appleyard Lees and Slater Heelis and is sponsored by Catapult Ventures, BioCity and Alderley Park.
In total nearly 200 delegates attended the event making this the largest and only gathering focused on life science investment in the North of England. The event has been running for 7 years and has successfully brought together international investors and companies resulting in greater funding into companies in the North of England.
Geoff Davison, CEO of Bionow said "We were delighted with the quality of the pitching applications received and congratulate LIG Biowise. BioCap was conceived 7 years ago to increase the visibility of the impressive life sciences opportunities in the North and the number and quality of investors now involved with the event shows the quality and breadth of opportunities in the North of England"
The 6 competition finalists who pitched at the conference were:-
· LIG Biowise
· metaLinear
· MicroPore
· Nexus Labs
· Polyphotonix
· VisusNano
About LIG Biowise
If you would like further details on LIG Biowise and to speak with a member of the team, please contact Alex Sheppard, CEO at alex.sheppard@lig-tech.com.
www.lig-biowise.com
About Bionow
Bionow is the life-sciences membership organisation for the North of England and supports business growth, competitiveness and innovation within the biomedical and life science sectors. Bionow's membership offering focuses upon the specific needs of firms at their different stages of development, including dedicated business support programmes, shared procurement schemes with significant cost savings, exclusive insurance benefits, recruitment and training services, local and national events and access to a vibrant network of businesses.
www.bionow.co.uk
Contact: Helen Williams, Event & Marketing Manager helen.williams@bionow.co.uk 07714 168 020