Boyds presented with Queen's Award for Enterprise
Published on 04/10/2018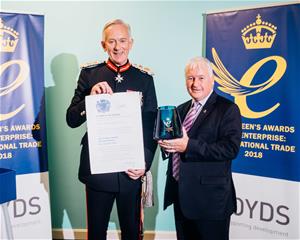 Boyds, a leading consultancy business supporting the development of pharmaceutical and biotech products and devices for patient benefit, has been presented with one of the UK's most prestigious business awards – The Queen's Award for Enterprise, International Trade for Outstanding Short-Term Growth in overseas sales for the last three years.
Boyds was awarded the accolade by Her Majesty's Lord Lieutenant of Cheshire, Mr David Briggs, MBE, KStJ, in an official visit to Electra House, Crewe Business Park - the company's Cheshire office – on Monday 10th September. Founder and CEO, Professor Alan Boyd, received a Grant of Appointment and commemorative crystal bowl in recognition of the company's growth and commercial success in international trade, and specifically for the company's work in gene therapy.
Around 40 guests attended the evening event, including staff, clients and contacts of Boyds as well as the Mayor of Crewe and the High Sheriff of Cheshire.
Boyds was established 13 years ago, and now employs 20 members of staff and consultants working out of its offices in Cheshire and Cambridgeshire. Working with small pharmaceutical and biotechnology companies as well as medical departments at universities, the team at Boyds helps to translate research ideas into medicines to treat human diseases. The business provides a range of expertise and skills central to the development of these medicinal products.
Boyds' expert assistance also helps to expedite the development of medicines, adding value to these products, and helping businesses reach key milestones in their drug development projects. Working in a highly regulated global industry, Boyds has grown its overseas sales by two thirds in the last three years with profits more than doubling.
Boyds' success in winning the Award also means it can fly the Queen's Award flag at its premises in Crewe and feature the emblem on its marketing materials.
Professor Alan Boyd commented, "We were truly delighted to receive the prestigious Queen's Award for Enterprise from Her Majesty's Lord Lieutenant of Cheshire in a ceremony at our Crewe office, where we were joined by those who have helped make the company the success it is today.
"It is a great privilege to have a globally-recognised royal stamp of approval, particularly as around 60% of our revenue now comes from businesses based outside the UK.
"We have a clear vision moving forward to continue to use our knowledge and expertise to help our global clients to develop products for the benefit of patients."
For further information, please contact: Sue Carr on 07809 727533, email: sue@vformation.biz.
About Boyds
Boyds (trading name of Boyd Consultants) was established in 2005 by Professor Alan Boyd and provides a range of expertise and skills central to the development of pharmaceutical and biotechnology medicinal products and medical devices.
Based in the UK with offices in Cheshire and Cambridgeshire, Boyds has an international client base comprising of early stage life science and medical devices companies as well as Universities.
Expertise includes: gene therapy; cell therapy; tissue engineering; recombinant proteins; protein conjugates; antibodies; biosimilars; small molecules NCEs; parenteral, oral and topical dose forms; medical devices; IVDs.
Professional Services include: product development; statistics and data management; regulatory affairs; regulatory medical writing; medical monitoring support; business support; training.
For more information, please visit our website
www.boydconsultants.com
or follow us on Twitter @boydconsultants