Now Open for Entries! 2018 Bionow Awards Competition
Published on 04/10/2018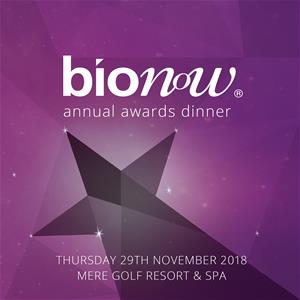 Bionow are delighted to invite companies to enter the 2018 Bionow Awards Competition.
Celebrating the successes and innovation within the life sciences sector, the Bionow Awards is a highlight of the life sciences calendar and now in its 17th year showcases the very best of this world class sector.
The competition is open to Bionow members and non-members and with 9 award categories, there is a category for all companies to consider entering and with just a 400 word requirement it will take you no time to complete the application!
So if you fancy being crowned a winner in 2018, submit your application now!
The 2018 Bionow Award Categories are:-
Bionow Start Up of the Year Award Sponsored by RSM
Bionow Healthcare Project of the Year Sponsored by TRUSTECH
Bionow Project of the Year Sponsored by Waters Corporation
Bionow Product of the Year Sponsored by The Innovation Agency
Bionow Technical Service Sponsored by Gateley Plc
Bionow Promising Technologist of the Year Sponsored by Seqirus
Bionow Investment Deal of the Year Sponsored by QIAGEN Manchester
Bionow Outstanding Contribution Sponsored by Sci-Tech Daresbury (By invitation only)
Bionow Company of the Year Sponsored by AstraZeneca (By invitation only)
The closing date for the submission of all applications is Wednesday 7th November.
Evening
The Bionow Awards Dinner will start with a drinks reception at 6.30pm followed by the dinner, the awards ceremony and networking. Carriages will be at midnight.
Table Reservation (Table of 8)
Premium Member: £1180.00 + VAT
Member: £1325.00 + VAT
Non-Member: £1670.00 + VAT
Single Guest Seats
Premium Member: £165.00 + VAT
Member: £190.00 + VAT
Non-Member: £235.00 + VAT
If you are interested in sponsorship at the Bionow Awards, please contact Helen Williams on 07714 168020 or at helen.williams@bionow.co.uk