Bionow Annual Awards - Showcasing this World Class sector
Published on 31/10/2018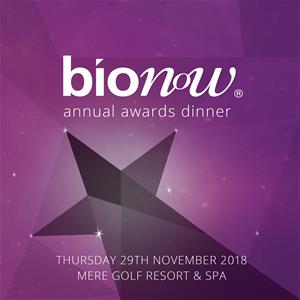 I enjoy all of our events, but the one that excites me the most is always the Annual Awards Dinner. We have such an energetic and inspirational sector, so I am sure I speak for the whole Bionow team when I say we really enjoy celebrating the sector, the successes and contributions that members and non-members make to the Life Sciences sector.
Today, I want to talk about the nominations process, firstly, I want to answer a few questions that we at Bionow are often asked.
Firstly; 'are the Awards just for Bionow members?' The simple answer is no. The Awards are open to all.
Secondly; 'when do I have to have my nomination in by?' Nominations need to submitted no later than 7th November.
Finally, the other frequent question that comes up is; 'Can I nominate myself?' The answer is absolutely, showcase your successes. You know your business, your achievements and projects better then anyone, so why not put yourself forward and give yourself the ultimate recognition.
Why wait for someone else to do it, Enter Now!
What anyone reading this blog needs to consider is, do you want recognition for your achievements, your business? Do you want publicity and a prestigious highly respected Award for your efforts? Would you like your success to be featured in the hugely respected The Times North supplement?
If you are answering yes to any of these questions, then you need to review the categories below and submit your application NOW:
• 2018 Bionow Start-up of the Year; for an innovative company that started no earlier than January 2016
• 2018 Bionow Healthcare Project of the Year; for companies, NHS and private healthcare organisations or research organisations including universities that have a project that is innovative and demonstrates a step forward in research in the healthcare field
• 2018 Bionow Project of the Year; for companies, research or healthcare organisations and universities that have a project that is particularly aimed at providing an innovative solution in healthcare
• 2018 Bionow Product of the Year; for innovative approaches to develop biomedical services, equipment or products particularly those which serve the needs of human healthcare
• 2018 Technical Service; for companies that have demonstrated and innovative and successful approach to solving problems in the industry
• 2018 Bionow Promising Technologist of the Year; for someone in the first 5 years of their career using innovative approaches
• Bionow Investment Deal of the Year; for companies and organisations that have had a significant financial deal closed in the period 1st August 2017 – 30th September 2018.
If any of the above are relevant to you, then let's hear from you, don't let this great opportunity pass you by, entering for an Award is easy and full details are on the Bionow website: https://bionow.co.uk/events/2018bionowawardsdinner.aspx
All the best with your entry and see you on the 29th November,
Geoff