Seminar shines a light on hot process industry topics
Published on 04/12/2018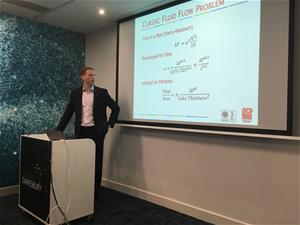 People working in the worlds of process engineering and manufacturing had the chance to learn about some of the latest developments affecting the industries last week.
BPE, one of the UK's leaders in chemical and biochemical engineering, held a breakfast seminar to look at some of the key issues and trends affecting the industry. It also shared some of its latest findings from its series of free whitepapers, which aim to share best practice.
Among the topics under the spotlight were: continuous reactor modelling, filtration scale up and LOPA and high containment.
Jon McGeehan, who heads up BPE's North West office where the event was held, said: "The event provided a fantastic opportunity for us to share our current technical developments with our customers, partners and the wider community. We were particularly pleased to share our recent whitepapers, which have been proving popular since the series was launched."
Noel Quigley, BPE's managing director, added: "We firmly believe that sharing best practice helps to move the whole industry forward and we'll certainly be looking to run more of these events in 2019. It was fitting that last week's event was held at our North West office, marking almost exactly two years since we opened our second location."
All of BPE's whitepapers are available to download for free at
https://www.bpe-ds.com/about-us/bpe-whitepapers/
To register your interest for future events email Olivia.M@bpe-ds.com