Reading Scientific Services Ltd - RSSL Senior Technician - Pharmaceutical Microbiology
Job Title:

RSSL Senior Technician - Pharmaceutical Microbiology

Category:

Technical roles

Closing Date:

26/04/2021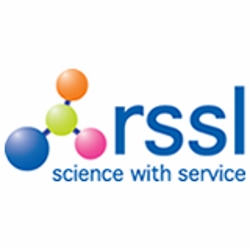 To apply for this role, click here.
Job Description
Reading Scientific Services Ltd (RSSL) is a cutting-edge Contract Research Organisation (CRO), providing research, analysis and consultancy to the pharmaceutical, healthcare and food sectors. Whether we are creating new products, validating medicines or solving investigations, we take pride in being a leader in our field, serving clients from across 60 countries.
In 2019, we've been recognised as OBN's Best CRO, Women in Business Enlightened Employer and Business of the Year award winners.
Enriched by our parent company Mondelēz International, our diverse team includes 22 nationalities from 300 members, creating a family feel as we strive towards our mission of science enhancing lives.

Role summary
You provide hands-on assistance to support the operation and goals of the laboratory by planning and conducting experiments and applying your understanding to analyze results. With guidance, you plan and implement assigned projects.

How you will contribute
You will perform a range of analyses, prepare and maintain standard equipment and chemicals required for running of an analytical laboratory, support laboratory activities while ensuring compliance to the appropriate internal and external standards, and capture and report data with technical rigor and accuracy. To succeed in this role, you will maintain a clean, tidy and safe working environment and be proficient in generic and specific software packages.

What you will bring
A desire to drive your future and accelerate your career and the following experience and knowledge:
Working on teams and independently with the guidance of more senior team members
Proactively identifying problems and assisting in creating and implementing solutions
Maintaining equipment to ensure they are always operable
Applying your technical understanding of equipment to support laboratory operations
Recording and reporting data and activity outcome accurately
Working in laboratories
Relevant industry and/or academic experience

The role as Senior Technician is to be responsible for performing a range of routine analyses ensuring that projects are completed effectively and meet the customer's contractual agreements -. Perform microbiological analysis and report work in accordance with the quality standards. This role focuses on the analysis of products using techniques such as those found in the pharmacopoeias.
In addition, this role supports the laboratory organization by stock maintenance, sample management and the quality/GMP system by media quality control, calibration activities, instrument maintenance, and raw data filing.
#RSSL